Description
When the price of plywood skyrocketed in 2020, I realized I couldn't keep donating the larger single cylinder kits I make to my students.  I redesigned the OHC single into a smaller package that took much less plywood.  This engine was the result of that effort.  With a 1.5 inch stroke instead of a 2 inch stroke and a 1.5 inch bore instead of a 2.5 inch bore, this engine is just "right" for students.  It easily fits in one hand watch it move – or while you carefully explain complex topics like how valve overlap relate s to efficiency speed.  This engine feature around 60 parts, and takes about 1-4 hours to assemble.  The final engine is 6.75 by 8.75 inches.
This is currently our preferred classroom engine, and as such it can be ordered in classroom packs of 10 or greater.    Classroom packs are shipped with each model bulk packed in Ziplock bags, and only the laser cut parts and springs are included.  The class coordinator (or student) is responsible to print the plans and make the dowel rod parts themselves.  You will need 3/4 inch, 1/2 inch, 1/4 inch, and 1/8 inch dowel rod pieces to complete the engine.  Classroom packs are 1/2 the price of the regular engine, and you must contact me to order them.  I recommend that the teacher or coordinator build one engine before the class.
KICKSTARTER NOTICE:  This engine has not yet been released to the public, and will be on a Kickstarter in the next few week.  Please order it there.  If you order it here, it will not be delivered until around November.
Resources for this kit:
Please view the instruction manual to see if this kit is appropriate for you.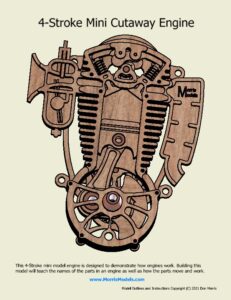 Build Video.  This shows the entire build process and follows the manual.