Description
As soon as we started designing flattened engines, we knew we would have to make a flathead engine.  It just had to be.  Measuring about 10.5 by 10.5 inches, our "flat flathead" is a great introduction to our engine models without the large scale commitment.   It is also our most appropriate kit to break in young mechanics.
In a flat-head engine, the valves are in the engine block and not in the head.  This allows for extremely compact engine designs, but the resulting complex combustion chamber geometries typically restrict their use to low compression ratio engines that operate at low speeds.  At one time, flatheads could be found in many applications.  However, their low compression ratios tend to imply low fuel efficiencies, and the flathead engine paradigm is no longer popular.
Our flathead model is inspired by the classic flathead Briggs and Stratton vertical shaft lawnmower engine.  The cam and combustion chamber have been split into two and relocated to either side of the piston to allow easy visualization of how the engine works (this technically makes it a cross-flow flathead engine).  It has our most detailed build manual, including a section on how four stoke engines work.  The manual is detailed enough to diagram where to spread the glue.  This is our easiest kit to assemble, and we rate it at a "precocious 12 year old" skill level.  Please view the links below to check difficulty.
Note that after designing this engine, we added two more similar engines that share many of the same parts:  and OHV and an OHC model.  These were deliberately done as a series to highlight engine development.
This engine features twin cams, a 2.5 inch bore, and a 2 inch stroke.  It has a little over 50 parts.  Expected construction time is around 1 to 5 hours.  Please check out our builder's manual and build video to see if you are able to complete this build.
Building resources for this engine:
To help you build this engine, we have both written and video instructions.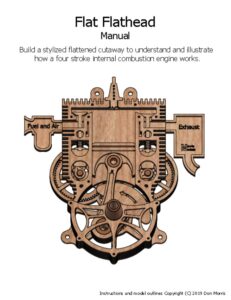 The video instructions follow along with the plan, so you can use it as a supplement for any part of the plans you are having trouble with.