Description
Our simplest and smallest piston engine, this kit builds a piston-ported 2-stroke. It is most similar to a Stihl Chainsaw engine.  Designed to be used as a visual aid to explain 2-stroke scavenging, this engine is also a good way to see if you like building a Morris Models kit without the heavy investment that some of the more complex models require.   This model is 8.5 by 4 inches wide when complete, and has about 30 parts.  It has a 1.75 inch bore and a 1.5 inch stroke.  This is rated for technically minded builders ages 12 and up with competent adult supervision.  Expected build time is about 1/2 to 3 hours.
Building Resources for this engine:
Please view the instructions to see if this is appropriate for you.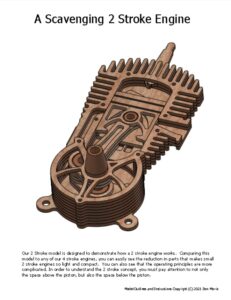 Also, this model has a construction video.  It shows the entire assembly process.