Description
The radial engine has a ring of cylinders radiating outward from a common crankshaft.  Although a few radials had three cylinders, most radials had 5, 7, or 9 cylinders per row.  Early radials had only a single row of cylinders, but during WWII, twin row radials became common for larger aircraft.  After the war, radials were built with up to four rows of cylinders.  These radial engines were highly advanced and efficient, but could not compete with the newer and much lighter turbo-prop engines coming on the market.  Today, radial engines are largely a nostalgia item.
Our radial engine is not patterned off of any particular engine, but was definitely influenced Wright Whirlwind and the Pratt and Whitney Wasp engines of the 1920's and 1930's.  The engine was designed to show as many of the moving parts as possible.  Stylistically, it echos many of the architectural and decorative Art Deco elements of the time period.  It measures about 17 inches in diameter with a 1.75 inch bore and a 2 inch stroke.  The crankcase houses a highly authentic master and articulating rod arrangement, with the master rod in cylinder number one.  The valve case houses twin cam plates with 6:1 retrograde motion.  It features a unique trailing link valve lifter design to allow all 14 of the valves to move accurately.
This engine kit is an advanced building project, and contains somewhere around 500 pieces.  Expect to spend between 10 and 30 hours building the model, although some have spent more time and others have spent less.
This kit is available in single (17 inch), double (34 inch) and triple (51 inch) sizes.  Please check out the builder's manual and the build video to see if this kit is for you.  Although not absolutely necessary, we recommend that our builders have access to a bench sander.
Building resources for this engine:
To help you build this engine, we have both written and video instructions.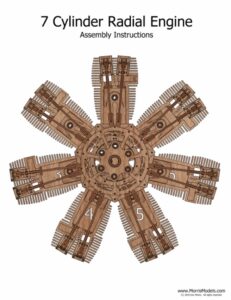 The video instructions follow along with the plan, so you can use it as a supplement for any part of the plans you are having trouble with.