Description
The Wankel Engine has been a favorite of gear-heads for a very long time.  Instead of using pistons in cylinders, a triangular rotor spins inside a carefully shaped chamber.  Guided by an eccentric shaft and gearing, the rotor maintains contact with the sides of the housing.  Ports are machined into the side housing or the end of the chamber.
Our stylized, flattened cutaway version is visually very like the Mazda Renesis 13B engine found in the RX-8, except that it features only one rotor.  That one rotor is all you can see when you hang it on the wall.  It is technical enough to be used in a college classroom, but interesting enough to hang anywhere.  The extreme reduction in parts on a Wankel engine can be seen in our kits as well – the parts count is around 35.  Compare that to the 500 or so found in our radial engines.  This makes assembly very quick and easy.
Unlike many of the plastic model Wankel engines, ours is large enough to easily see – even from across the room.  Depending on how you assemble it, can be easily taken apart to examine from the inside as well.  The standard sized model is about 11 inches wide and 12 inches tall, and is roughly 90% the size of a 13B.  It features true trochoid design, engraved "seals" on appropriate parts, movable apex seals, and twin non-functional spark plugs.
This engine is currently available in single (12 inch tall), double (24 inch tall), and triple (36 inches tall) sizes.  Although not absolutely necessary, we recommend that our builders have access to a bench sander.
Building resources for this kit:
To help you build this engine, we have both written and video instructions.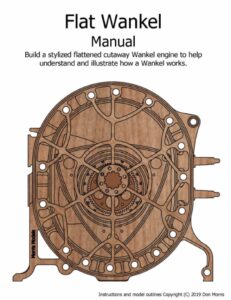 The video instructions follow along with the plan, so you can use it as a supplement for any part of the plans you are having trouble with.